RELATIONS WITH THE TERRITORY
The Department is attentive to its territory and is aware of the importance of training and research institutions operating "in the province". For this reason, it is committed to the growth of regional and local systems, to the strengthening and rebalancing of the social, economic and cultural dynamics of the internal and most fragile areas.
The commitment on the local territory and in various geographical areas of the world has led over time to tangible results in some key sectors, including environmental technologies, smart and inclusive cities, agriculture, Internet of Things (IoT), health, active aging and well-being .
These relationships have also intensified thanks to some European projects such as POREEN, Partnering Opportunities between Europe and China in the Renewable Energies and Environmental iNdustries; ALICE, AcceLerate Innovation in urban wastewater management for Climate change; GRAGE, Gray and green in Europe: the elderly living in urban areas, HEART, HEalth related Activity Recognition system based on IoT; CHETCH, China and Europe taking care of healthcare solutions.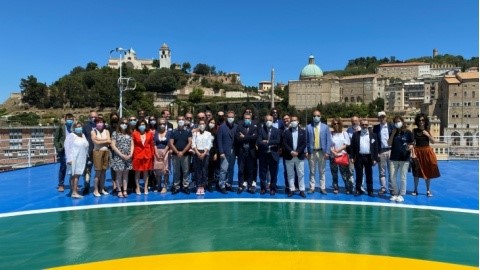 Research agreement with the Port System Authority of the Central Adriatic Sea (2021), "The Department of Law gets on board of a ship", Source: https://www.cronachemaceratesi.it/2021/07/06/dipartimento-di-giurisprudenza-sale-a-bordo-nave/1544382/