Third-Mission
The Third Mission (TM) defines the set of activities with which the University enters into direct interaction with society and the territory. The expression "third mission" might seem reductive, giving the idea that it is a residual activity compared to the two historical missions of the academy, namely teaching and research. In fact, its growing importance is the right step forward in a path that is appropriately concerned with the positive effects of university activities on society.
The Department of Law aims to maximize Knowledge Transfer (KT) processes, with the aim of enhancing research and teaching and generating social, economic and cultural impact. In fact, KT is considered an essential source of innovation and a mechanism for the dissemination of research results.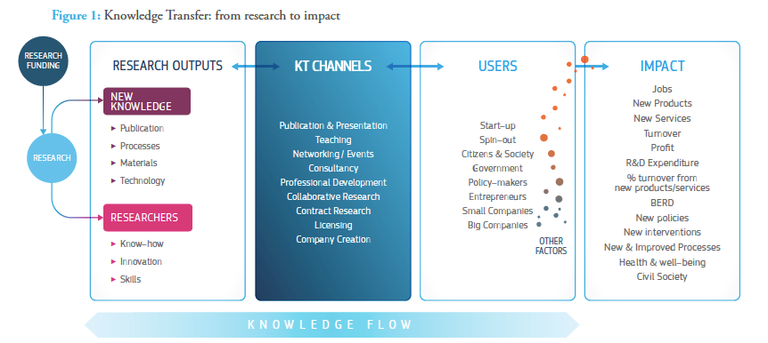 Source: European Commission, Joint Research Center, Campbell, A., Cavalade, C., Haunold, C., et al., Knowledge transfer metrics: towards a European-wide set of harmonised indicators, Dinnetz, M.(editor), Publications Office, 2020, https://data.europa.eu/doi/10.2760/907762
THIRD MISSION AND ROLE OF SOCIAL SCIENCES
In social science departments there is probably less experience and culture of research enhancement. However, there is certainly no less desire to contribute to the growth of society.
The role of the social sciences is particularly important today in various respects: for their role in accompanying and guiding the swirling advance of successive waves of technological innovation; to interpret the complexity of the current phase of economic and cultural evolution; to promote the culture of legality and the necessary cultural growth of many young people; to foster forms of participatory democracy; to analyze public policies with the aim of promoting legislative changes and jurisprudential interpretations, etc.
The Department of Law contributes to the growth of the common good in various ways.
TM's activities are grouped into the following macro-areas:
SOCIETY AND CULTURE
ENTREPRENEURSHIP
CONTINUING TRAINING
SUSTAINABILITY
RELATIONS WITH THE TERRITORY
For more information on the theme of the third mission, we recommend reading the following articles written by our researchers: